Don't Try and Remediate Flood Damage in Your Pottsville Home Alone-Contact SERVPRO
5/7/2019 (Permalink)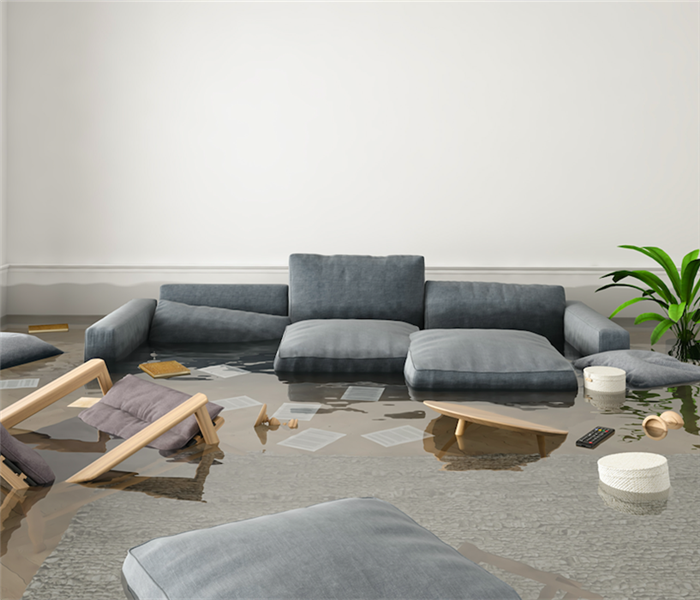 Flood damage can take over your whole home quickly. Contact SERVPRO today to handle any size remediation needs.
Decontamination and Disinfection for Flooded Pottsville Homes
Not all flood incidents that could affect Pottsville properties come with threats of contamination and hazardous conditions, but in some instances, this can be the case. In gray areas where professionals cannot accurately determine the likelihood of this potential contamination, water must get treated as though it has encountered various levels of bacteria and contaminants along its path to flooding your home. With these protocols in place, our professionals must act quickly to protect as much of your home as possible.
There are various levels of potential hazard that water could experience before it causes flood damage to your Pottsville home. In situations like roof damage, rainfall does not have a chance to encounter contaminated elements, so our SERVPRO professionals can follow normal water loss approaches to dry and recover the property. In situations where grey or even black water could exist, disinfection, cleaning, and even controlled demolition must occur.
Knowing what your property needs when restoring flood damages begins with accurate inspection and assessment of the home. Our estimator and management can walk through the house together to determine the likelihood of contamination and the best approach to contain these effects from impacting other areas of the house. Through physical barriers with plastic sheeting, extraction equipment, and units like hydroxyl generators and air scrubbers we can reduce the spread of contamination.
Disinfection plays a role in persevering structural elements that do not meet the requirements for removal and later replacement. To prevent the continued life and spread of bacteria, we have OSHA-approved cleaning agents and disinfection products that can remove contamination from the beams, studs, and framework of your property as recovery and restoration continue. In situations like the saturation of construction materials, controlled demolition practices by our SERVPRO team can safely remove these contaminated elements and prepare the area for reconstruction.
There are many types of flooding that can occur in your home, but our SERVPRO of Pottsville team can help to guide your property through the necessary steps to make the damages "Like it never even happened." You can reach our emergency response team 24/7 at (570) 622-8991.
Click here for more information about the city of Pottsville.