Can Wet Cabinets Survive After Water Damage Repair in Pottsville?
1/14/2022 (Permalink)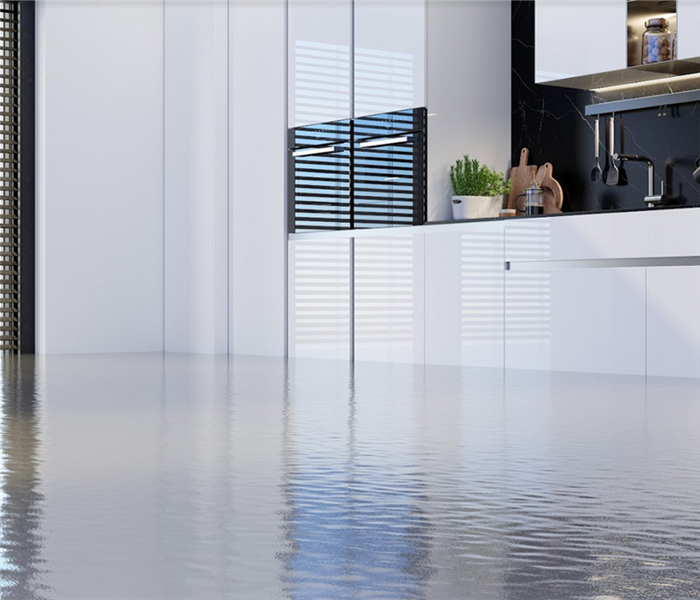 Wet cabinets require quick attention. Team SERVPRO is standing by 24/7 for your water damage remediation needs. We are available 365 days a year.
SERVPRO Uses Clever Techniques for Water Removal Around Pottsville Built-Ins
Shelving and built-in cabinets are beautiful, convenient, and common in kitchens, dining rooms, laundry areas, and other spaces prone to water damage in Pottsville. Water damage restoration of these fixtures is nearly always less disruptive and preferable to tear-outs and replacements, especially if the cabinetry is part of your home's cozy ambiance.
How Does Water Reach Cabinets to Damage Them?
Encircling the perimeters of living spaces in your Pottsville home are custom-made units providing places to store items, offering their top surfaces as workstations or displays. Often plumbing runs under or behind these cabinets, and a hidden burst pipe can trap water and damage the fixtures. Other ways water exposes cabinets to water's swelling and odors include:
Condensation from AC coils or drains
Overflowing drip pans from freezers or refrigerators
Cracked supply lines to ice makers or water dispensers
Tucked away, leaky HVAC system components--vents, radiators
Malfunctioning garbage disposal, dishwasher, or washing machine hoses, pumps, or drains
Unaddressed spills
What Water Damage Do Wet Cabinets Sustain?
Wooden framing, shelves, and raised floors swell and distort
Supports weaken, and joints loosen or break
Doors warp and stick or fail to close cleanly
Odors and mold growth develop
Does SERVPRO Have Practical Hints for Water Removal Without Permanent Damage to Fixtures?
Removing the water trapped beneath or behind the cabinets is crucial, even after the remediation of the leaks causing the damage. Here are some ways SERVPRO technicians release the water:
Toe kicks at the bases of the cabinets are removable -- prying them off gives access to trapped water and permits the flow of warm, moving air to accelerate drying
Holes drilled in cabinet backs allow for the use of negative pressure systems to extract water and positive pressure systems to force warm, dry air into the wet cavities
Place your confidence and cabinets into the skilled hands of SERVPRO of Pottsville's technicians. Call (570) 622-8991 if water damage threatens built-in cabinets.