Does Drying Equipment Need to Run All the Time after Flooding?
9/22/2020 (Permalink)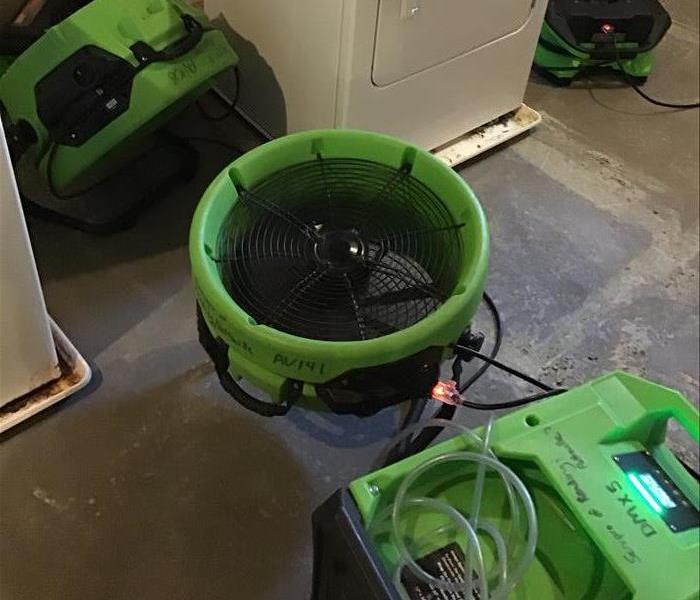 SERVPRO Deploys Advanced Drying Equipment to Restore RH Relative Humidity as We Manage Flood Damage Mitigation in Pottsville
Pottsville Homes Benefit from SERVPRO's Aggressive Drying Service
After a storm causing flooding, many homes and businesses in Pottsville need the water and debris removed, homes repaired, and restored to their original condition. Our clients often ask us whether the air movers and dehumidifiers need to be running all of the time? Can they turn them off during office hours or at night when they are trying to sleep?

SERVPRO provides floodwater removal services to the city of Pottsville and surrounding areas. Our team initially removes all of the debris and water that may have entered your home. We also provide board up services to cover broken windows, damaged roofs, and doors. The next stage involves cleaning everything salvageable and removing the rest. Finally, our moisture removal equipment is installed to dehumidify the air and draw out all of the excess moisture that remains in the structure.

The most efficient approach is to operate the equipment continuously until moisture levels return to normal. Turning the air movers and dehumidifiers off extends the time needed to completely dry your home and increases the risk of mold colonies becoming established and causing more damage.
Everything Was So Damp, and Now the Air in Our House Feels So Dry
The air in your home may feel dry; however, high levels of moisture may still exist in walls, carpets, and your home's contents. SERVPRO monitors the humidity levels and adjusts the equipment to target specific areas that may require further drying. All materials do have a natural moisture content level; this is the goal we strive to reach.

Moisture in these areas can migrate into your home's dry air. Once your home reaches a standard RH Relative Humidity, all of our equipment is removed. Restoration of the floodwaters' damage can also begin, returning your home to its original condition.

Call SERVPRO of Pottsville (570) 622-8991 to assist with floodwater removal and restoration of your home or business.