What is the Fastest Solution to Flood Damage for Pottsville Businesses?
10/6/2021 (Permalink)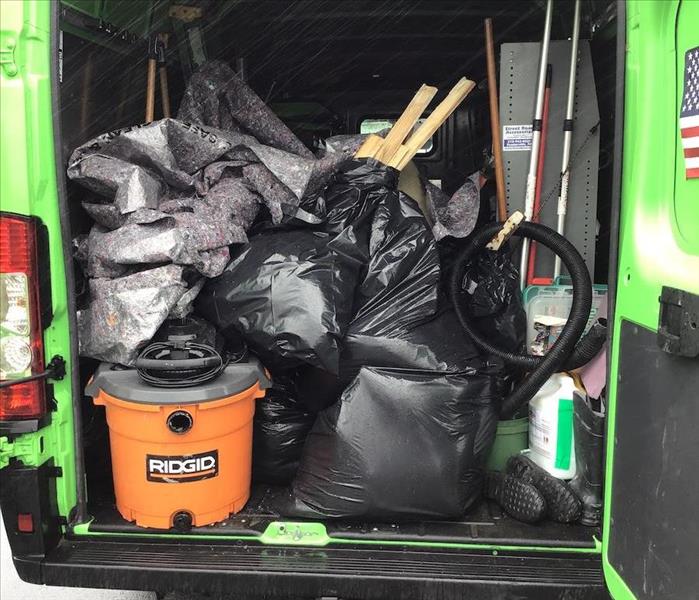 SERVPRO IICRC certified technicians are trained and experienced in all phases of commercial damage restoration.
SERVPRO of Pottsville Can Help Restore Flood Damage in your Business Premises
Long-term damage can occur to flooded business premises. Often, these sudden events are out of the control of a property manager and can occur at any time throughout the year. The lasting impact of flooding depends upon the ability to respond quickly. Quick responses help to mitigate the losses that usually occur as a result of flooding. Take, for example, a flooded foyer in a busy hotel. The impact of water exposure to flooring, carpets, walls, and the front desk exponentially increases over time. The solution to this problem is to bring in industrial, electric submersible pumps to help reduce standing water to an acceptable level. Commercial restoration services can help to:
Drain a commercial premises
Perform fast-drying of the affected area
Return the property to a sanitary condition
We promise to arrive on-site within four hours of notification of loss when responding to commercial flood damage in Pottsville. Water deterioration can occur overnight, which is why coming quickly and performing emergency mitigation is so important. In a flood situation, it is common to experience a power outage. SERVPRO has gas-powered industrial generators and gas-powered pumping equipment to ensure that vital mitigation procedures can occur even if mainline electricity is temporarily unavailable. We can also provide the necessary lighting to ensure that technicians can accurately inspect and repair the property when producing an estimate.
We can pump warm, dry air into commercial premises using powerful indirect furnaces or external direct expansion(DX) units
Typical commercial restoration teams include crew chief, production technician, and specialist water restoration technician (WRT)
Contamination in floodwaters can require the removal and replacement of certain materials in a building assembly, including drywall, carpets, and draperies
To quickly resolve a flooding situation, contact SERVPRO of Pottsville for commercial flood damage at (570) 622-8991.