How Can Mold Removal Happen in a Pottsville Basement?
6/7/2021 (Permalink)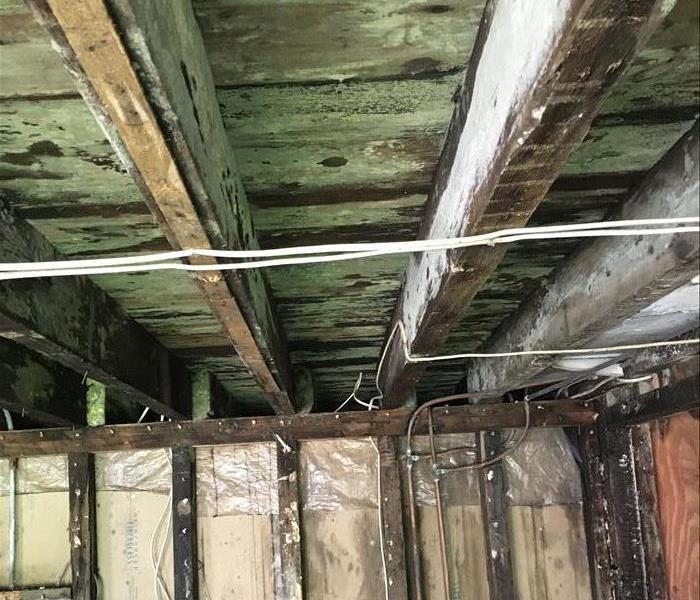 Don't Let Mold Damage get out of control in your Pottsville basement--Call SERVPRO for remediation and cleanup
SERVPRO Recommends Getting Professional Mold Damage Remediation to Ensure the Problem Ends
One thing to remember when black mold or another type is seen in a Pottsville property, it is always a symptom of a larger issue. Frequently visited reasons include unseen leaks, lack of ventilation allowing humidity to build up, or post-flood damage.
SERVPRO handles mold removal in Pottsville properties and addresses the cause at the time of the remediation. This attention to detail inhibits the issue's return and ensures the homeowner does not have to keep dealing with the mold. Scoping using our equipment can pinpoint the areas of elevated moisture, then the tech can drill a tiny hole to inspect for mold. This prevents the removal of portions of walls or ceilings in finished basements that do not harbor mold colonies.
Removal of dried matter may happen through different methods depending on the surface it is left upon. SERVPRO techs have access to abatement applications such as ice, soda, and glass bead blasting to lift away stuck-on residues without marring surfaces, such as cinder block walls in a basement.
Actions to Inhibit Further Mold Damage During Remediation
Lowering interior humidity under 50%
The use of antimicrobial sealants
Containment to halt the spread of airborne spores during remediation
SERVPRO of Pottsville at (570) 622-8991 brings years of comprehensive training to every Pottsville mold damage remediation resulting in the best outcome every time.