Torrential Rains Caused Flooding to My Home – Can SERVPRO Help?
9/1/2020 (Permalink)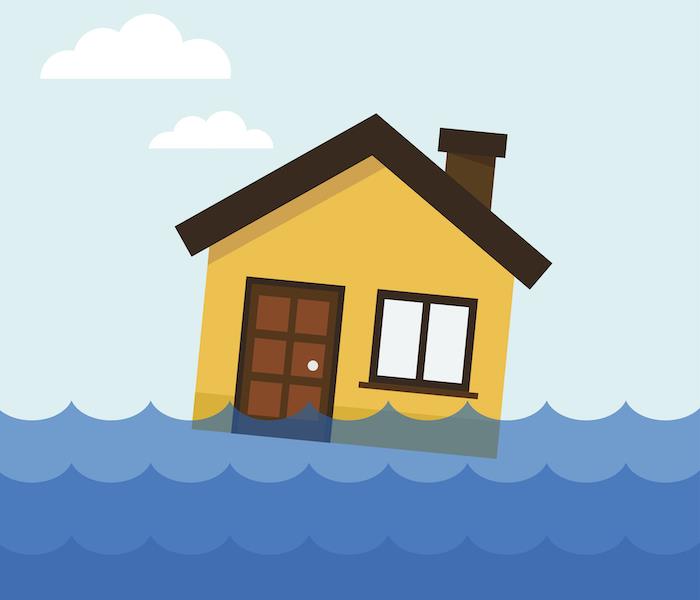 SERVPRO professionals are trained to handle every level of water damage. Call us today, we are always available to help.
Professional Technicians Understand Storm Flooding and Can Provide Emergency Flood Mitigation to Pottsville Homes.
Pottsville is located along the beautiful Schuylkill River and is home to approximately 14,500 residents. Like much of Pennsylvania, it is prone to flash flooding and severe storms that can send water surging into homes. High winds can damage roofs allowing heavy rains to enter the property.
My Roof is Damaged – Can You Stop the Water from Getting Inside?
When flood damage occurs in Pottsville, getting emergency water mitigation is crucial. Our professional teams arrive on the scene as soon as possible once we receive the call. Emergency procedures are then put in place to ensure the safety of the home and occupants and to prevent further deterioration from taking place. To prevent more water from entering the home via the roof, the crew can:
Temporarily seal the exposed area of the roof with plastic sheeting
Tarp the roof over the plastic an added layer of protection
Help you find a professional roofer for needed repairs
Can You Dry Out My Attic?
When a storm causes damage to a roof, it often means water damage to the attic area. The attic may simply be a small area that is barely accessible, or it may be a finished room where household items are stored. Getting the needed equipment in the attic can be a challenge, but SERVPRO's Institute of Inspection, Cleaning, and Restoration Certification (IICRC) certified technicians encounter these types of situations every day. They have the experience and expertise to implement the precise flood damage mitigation needed.
Many attics contain sheetrock, which can complicate drying. Controlled demolition may be needed to remove damaged sheetrock. Once this happens, the attic's structural components are easier to dry. Even if the sheetrock shows no signs of water damage, it may have to be removed to allow access to impacted areas. Restoring an attic often means working with insulation. Wet fiberglass insulation can be restored in particular cases, but the plaster or sheetrock underneath is not always salvageable. We use large insulation vacuums to remove it and save it for possible reuse.
How is Water Removed from the Rest of the House?
The general process for water removal is the same, whether from flood damage or water intrusion from something like a water heater rupture. It involves:
Use truck-mounted or portable pumps to extract the water.
Using various types of extractors for carpet, flooring, and furniture.
Locating hidden moisture with moisture meters and infrared cameras.
Setting up drying equipment to complete the process.
When dealing with any water damage, there are three types of water – clean, gray, and black. Floodwater that surges into the home is considered black water. It is contaminated and should be avoided unless you have the proper PPE equipment. The contaminants found in flood water can include dead animals, dirt, debris, bacteria, chemical waste, and more. Disinfectants and sanitizing agents must be used on the water and anything the liquid has touched.
What About My Flooring?
In a flooding situation such as this, there can be hardwood floors, linoleum, and carpeting that are soaked. Carpets that have been exposed to flood water typically need to be disposed of due to contaminants. Our technicians handle the removal of loss items as they may require special disposal. Upholstered furniture is in the same category.
Hardwood floors hold up better to water damage than softwood flooring. Its natural composite makes it more resilient. When drying hardwood floors, our technicians strive to prevent buckling, warping, and cupping from becoming permanent. Wood floors need to be dried out as quickly as possible as mold can develop fast. Sanding and refinishing may be required once the floors are completely dry.
Can the Odors be Removed?
SERVPRO technicians move on to cleaning and disinfecting once everything is dry. Exposed surfaces get treated with antimicrobials and, if needed, sealants get used. Everything gets thoroughly sanitized. Part of the process involves mitigating lingering odors. There are several things that can be used, including:
Gel pellets – timed release for light smells
Hydroxyl generators – Safely remove odors using UV rays
Thermal fogging – Used for widespread odors
Giving You Back Your Home.
Our goal is to restore your home to its preloss condition. Storms and floods in Pennsylvania can strike at any time, day or night. We live in PA and understand the hazards. Because of this, we are available 24/7, including holidays. Catastrophes do not ask when it is convenient for them to take place. They simply occur. Making sure your family is safe and taken care of is what you do best. Let us handle the stress of restoration and making your home, "Like it never even happened."
If storms have you needing professional flood damage services, contact SERVPRO of Pottsville at (570) 622-8891. We're Faster To Any Size Disaster.